Our Rooms
You just know when a hotel feels right: when you feel immediately at home; relaxed and comfortable; welcome. Overwater Hall is one of those places. It is more than a hotel – it's an experience.
You're not just booking a room: there are two comfortable lounges for you to enjoy: watch the red squirrels through the Drawing Room window, or curl up here in front of the log fire on a winter's day; sit with your dog in the Hall while you read a book or plan tomorrow's outing on the fells.
Our cosy bar is open all day: a pint of Skiddaw – a locally brewed real ale – is always welcome after a day out walking, but if a glass of wine or a cocktail is more what you had in mind, well there are plenty of these to choose from, too!
Each of these rooms, along with our extensive grounds, are very much a part of the Overwater experience so spread out and take advantage of all these lovely spaces while you are here.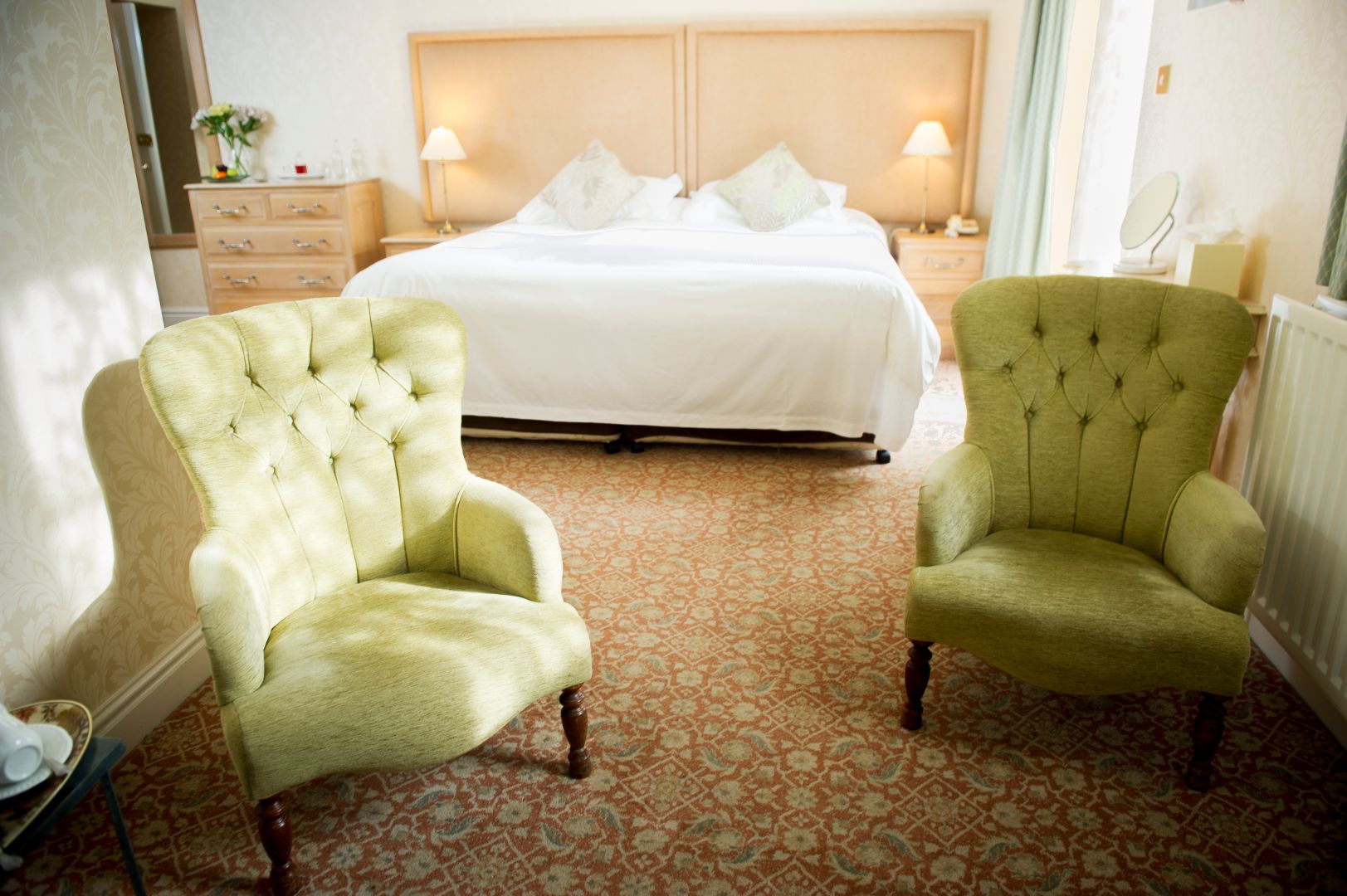 Garden Room
The only bedroom on the ground floor, ideally suited to ambulant disabled guests. This spacious room with either super-king or twin beds, is large enough to accommodate an extra bed for families. A whirlpool-spa bath and balcony make this room extra special.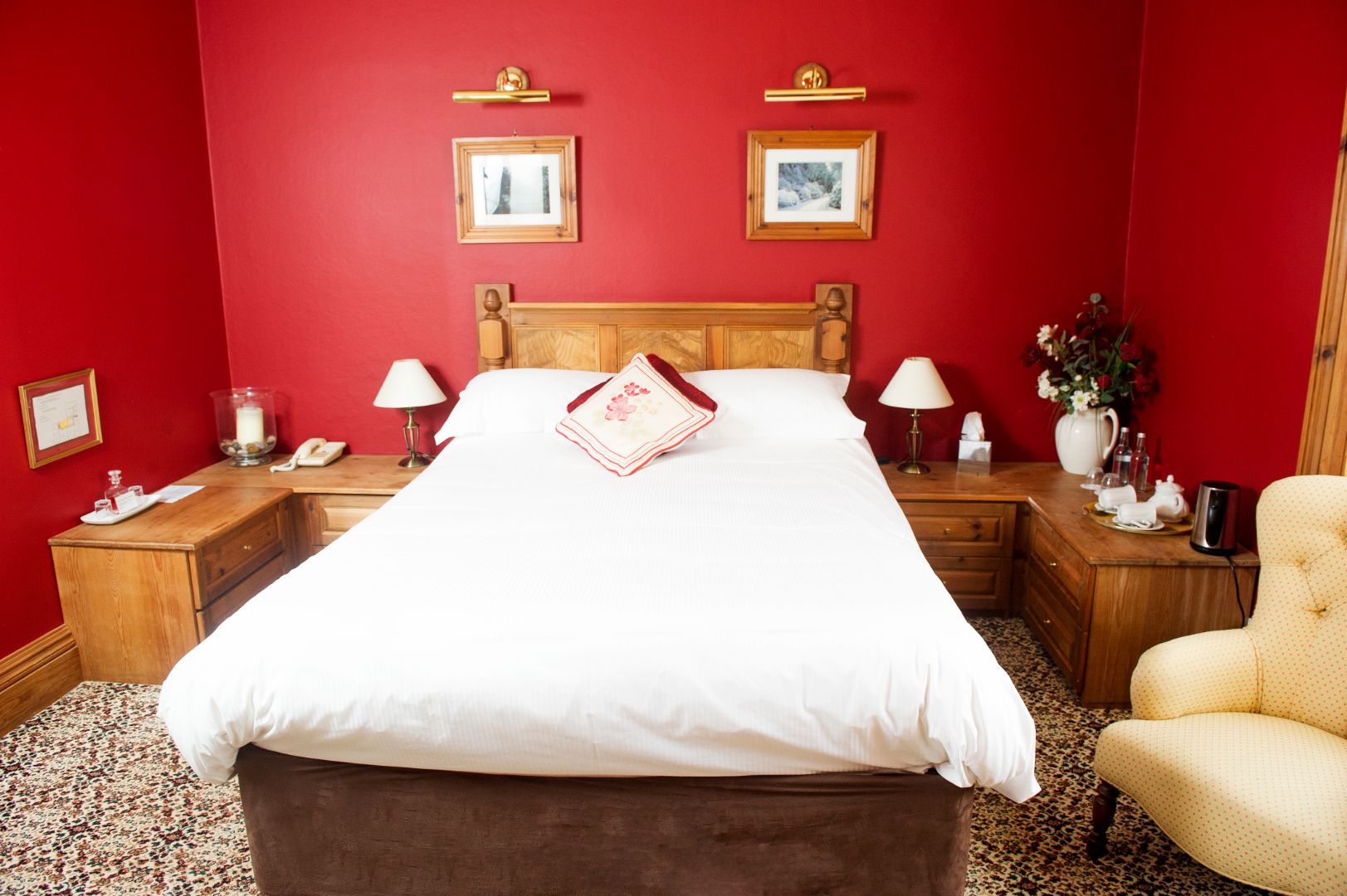 Room One
A king-sized bed, deep Victorian red walls, waxed wood panelling and window shutters give this room a very romantic feel. The unusual layout of the room lends itself to being described as 'Tardis-like'!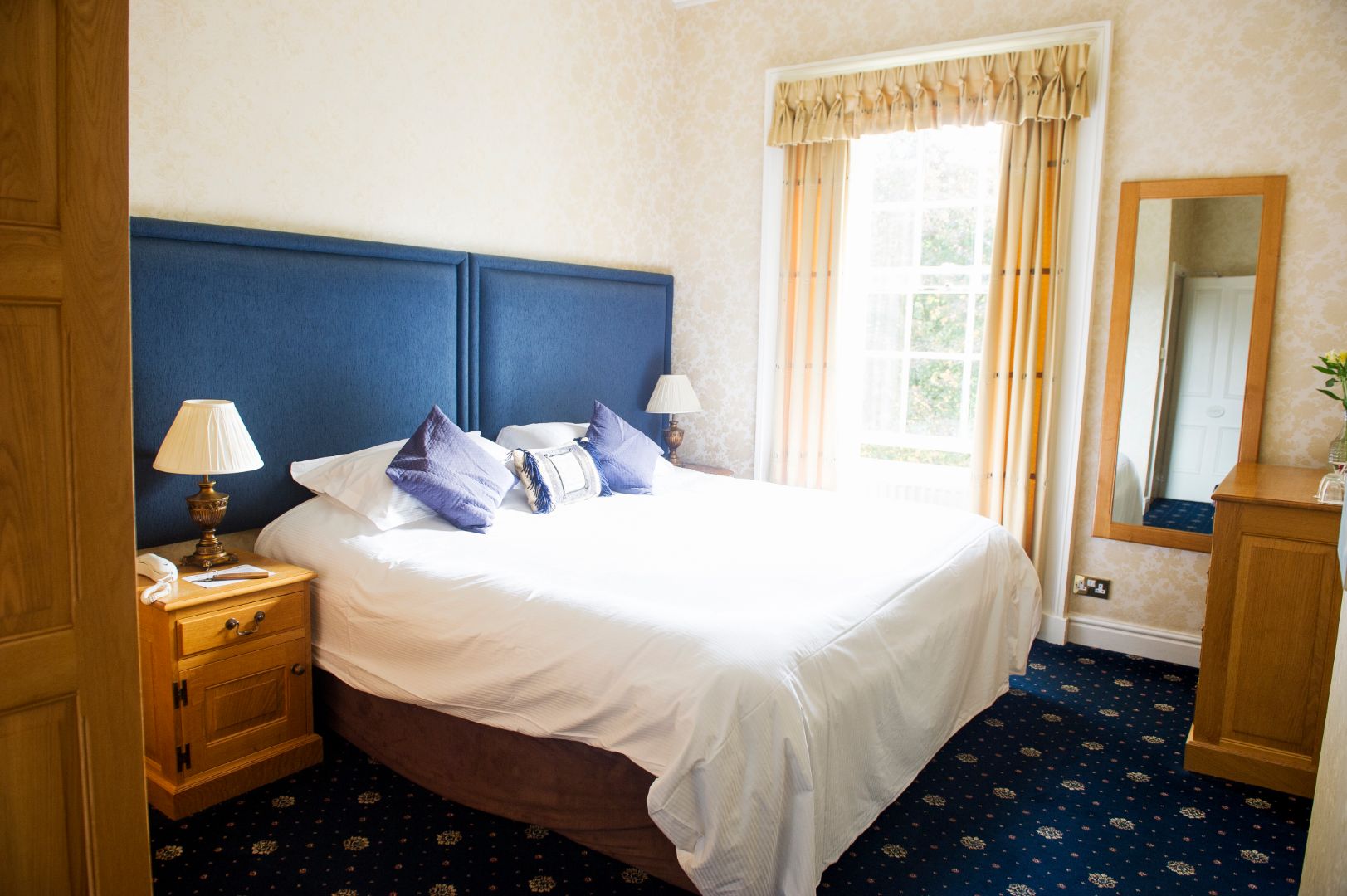 Room Two
A super-king or twin-bedded room with its own sitting room and splendid views across the garden to Skiddaw beyond. Beautiful handmade oak furniture gives this room a feeling of opulence.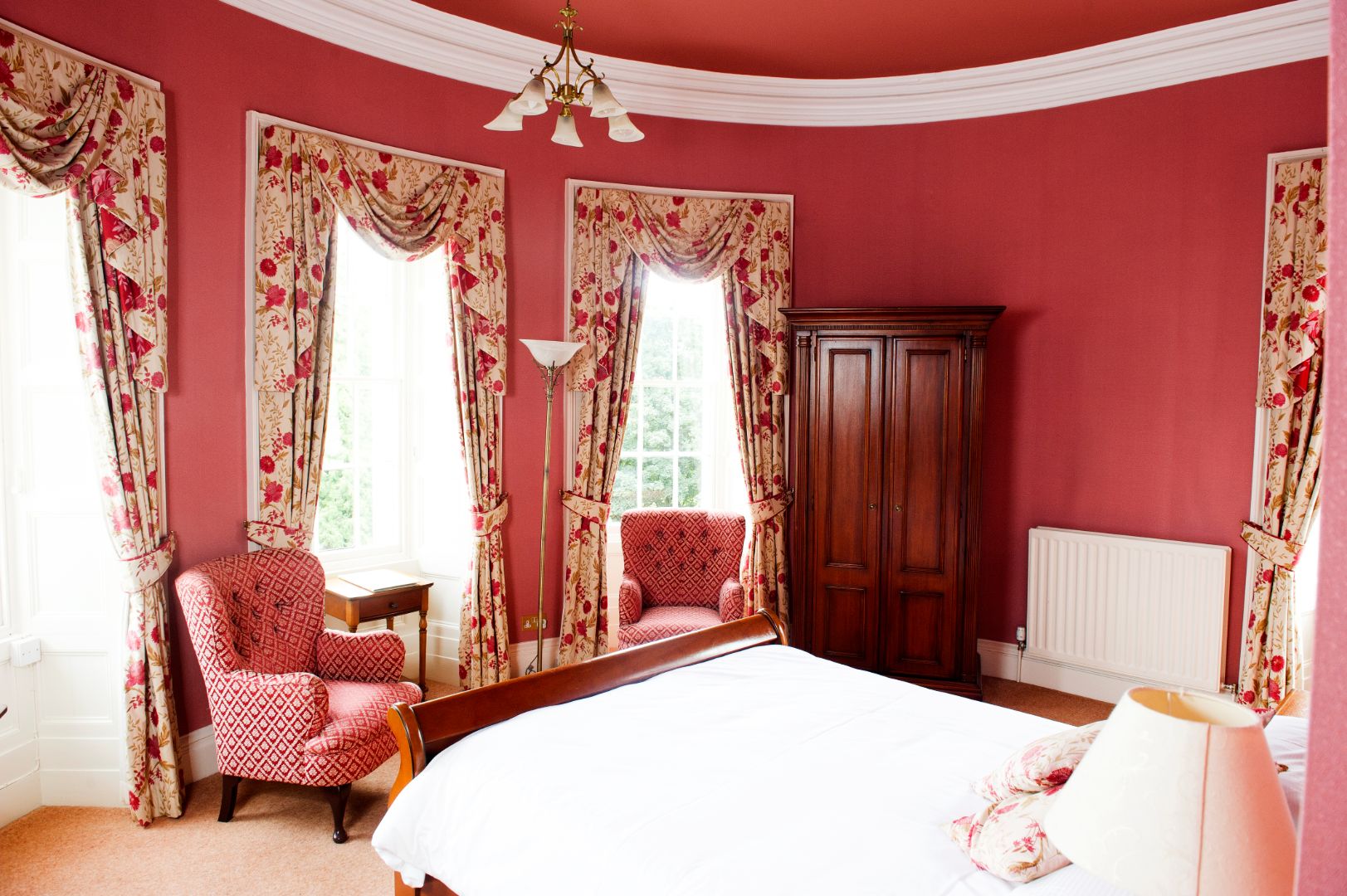 Room Three
This turret room has lots of character, with a polished king-size sleigh bed and Victorian roll top bath. Spectacular views through no fewer than four large windows.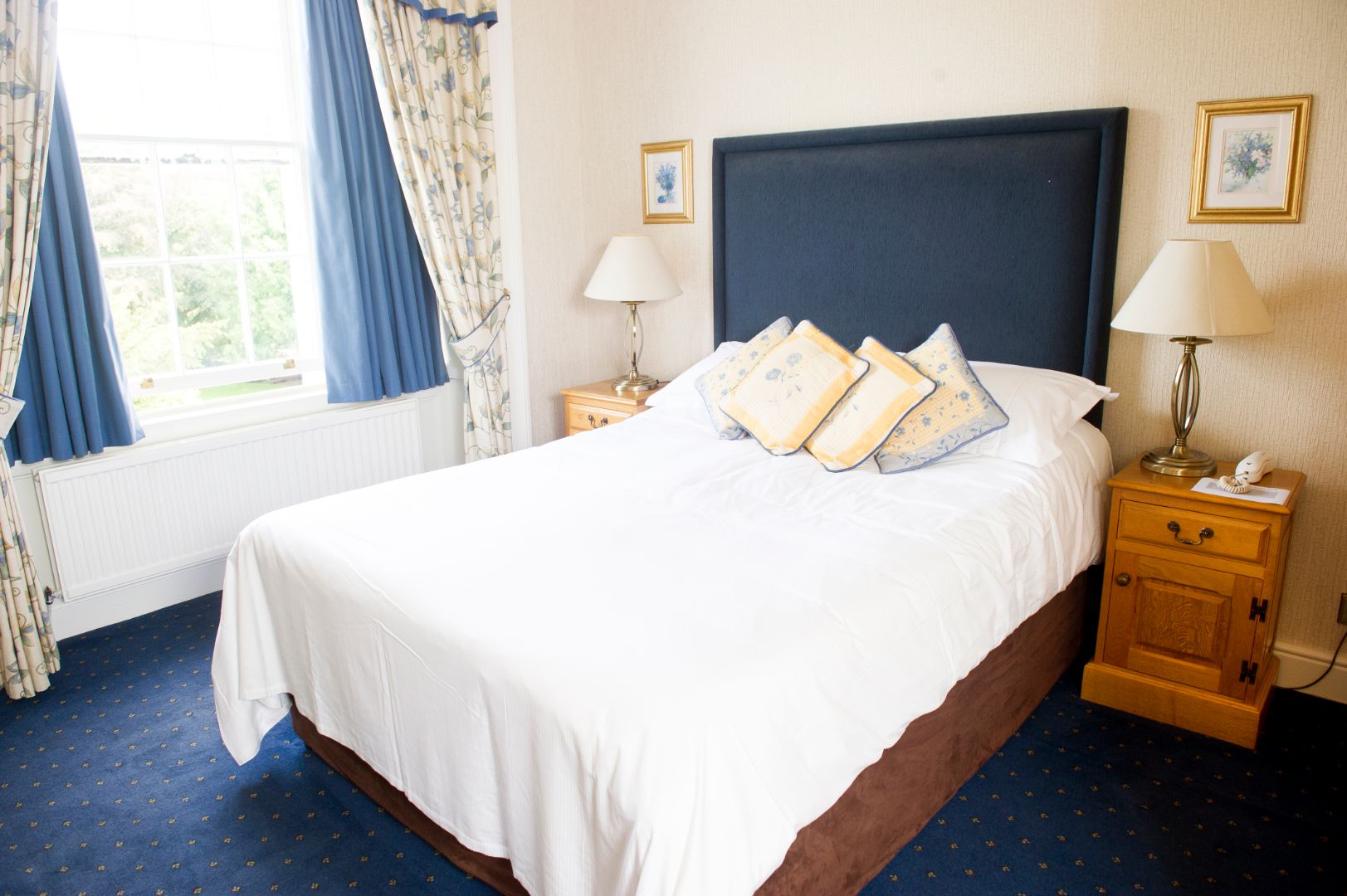 Room Four
A bright bedroom with king-size bed and a delightful sitting room. Beautiful handmade oak furniture is a feature in this room.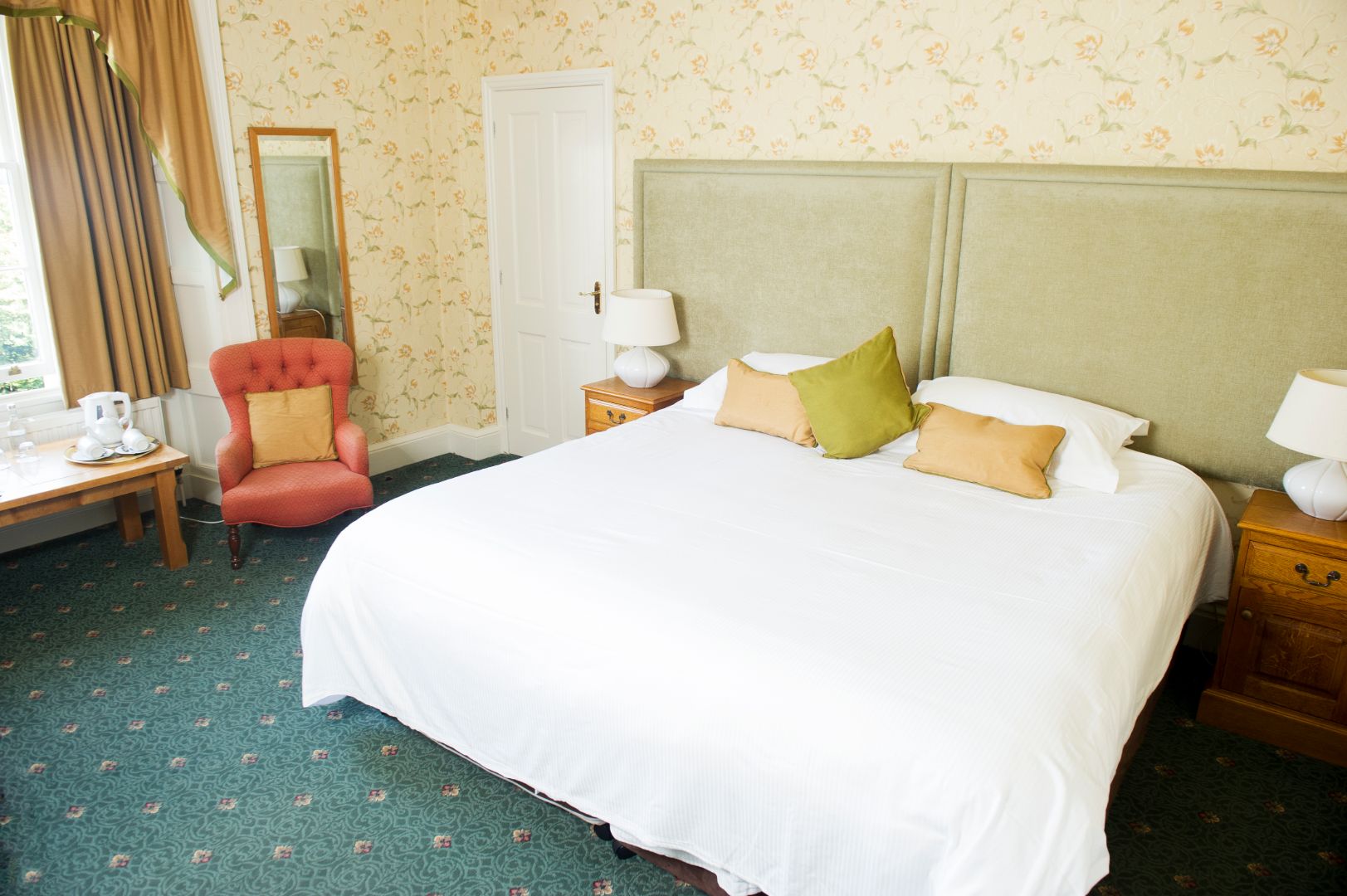 Room Five
A very spacious room with super-king or twin beds, and large enough to accommodate an extra bed for families. More of that lovely oak furniture in this bedroom, and a most unusual beech sink pedestal and shelf unit in the bathroom.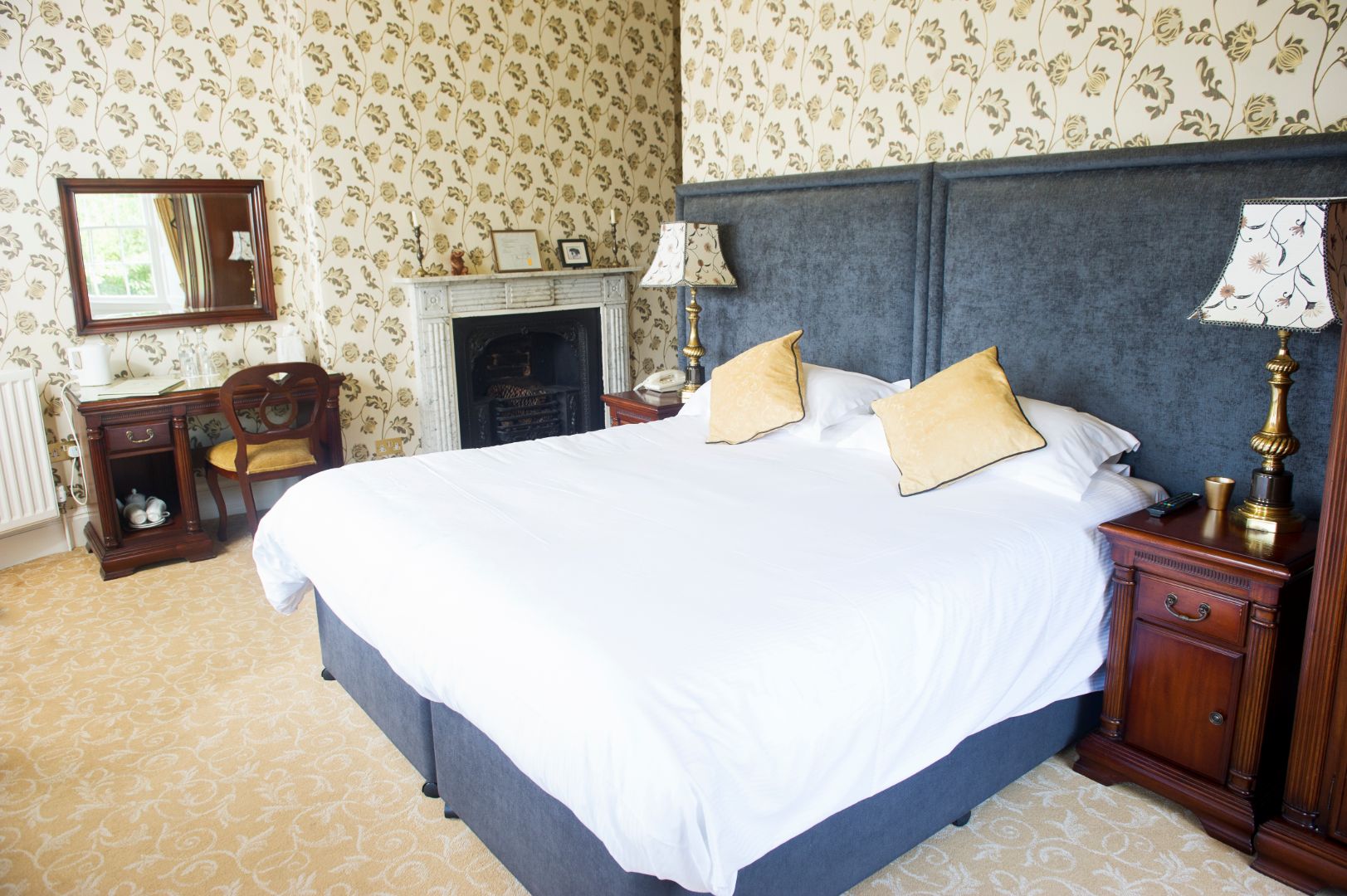 Room Six
This stunning turret room can be either double (super-king) or twin-bedded. The daring black and gold colour scheme gives the room the wow factor!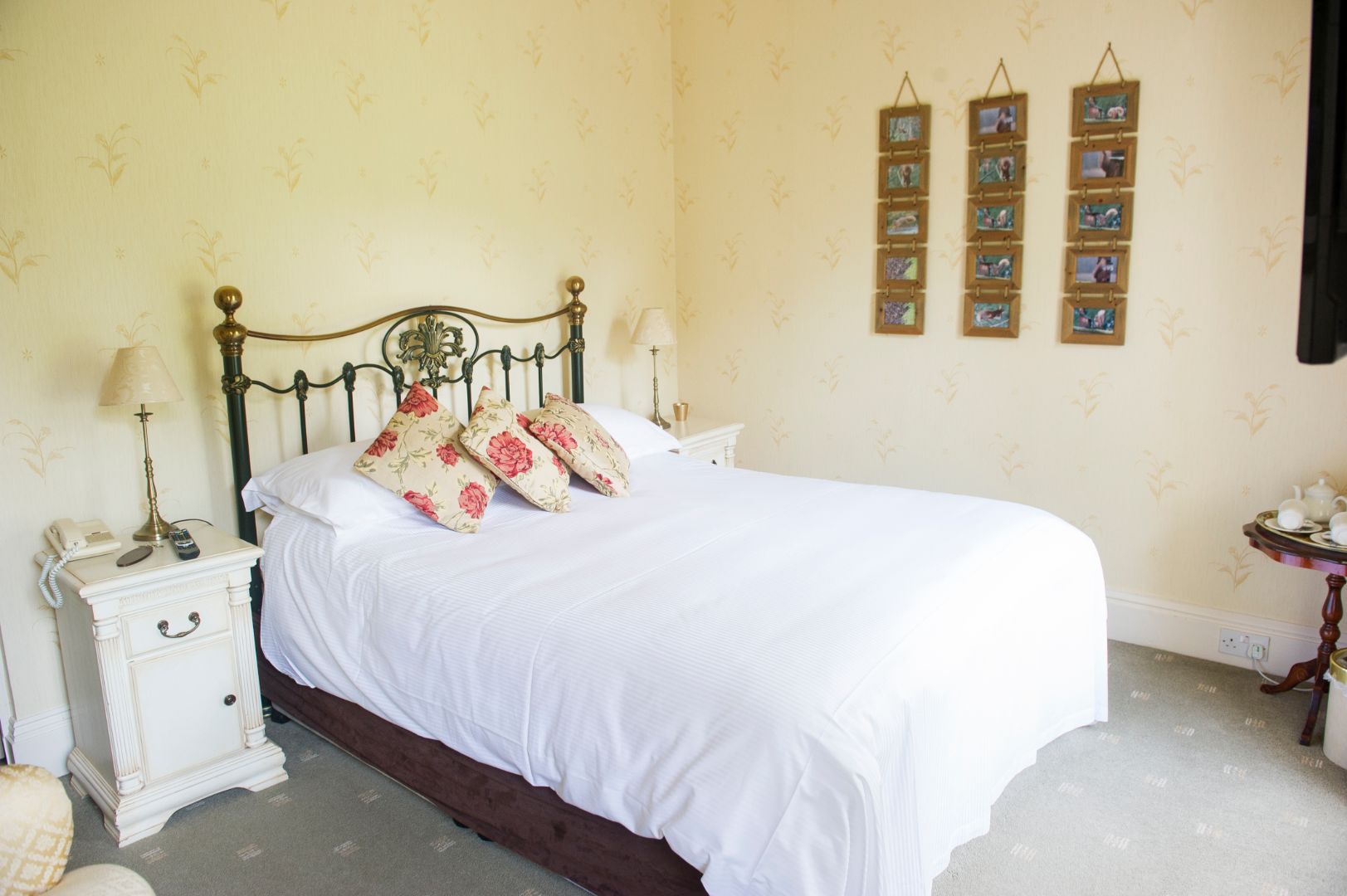 Room Seven
Distressed ivory furniture gives a country feel to this bright and airy room with a king size bed and separate dressing room.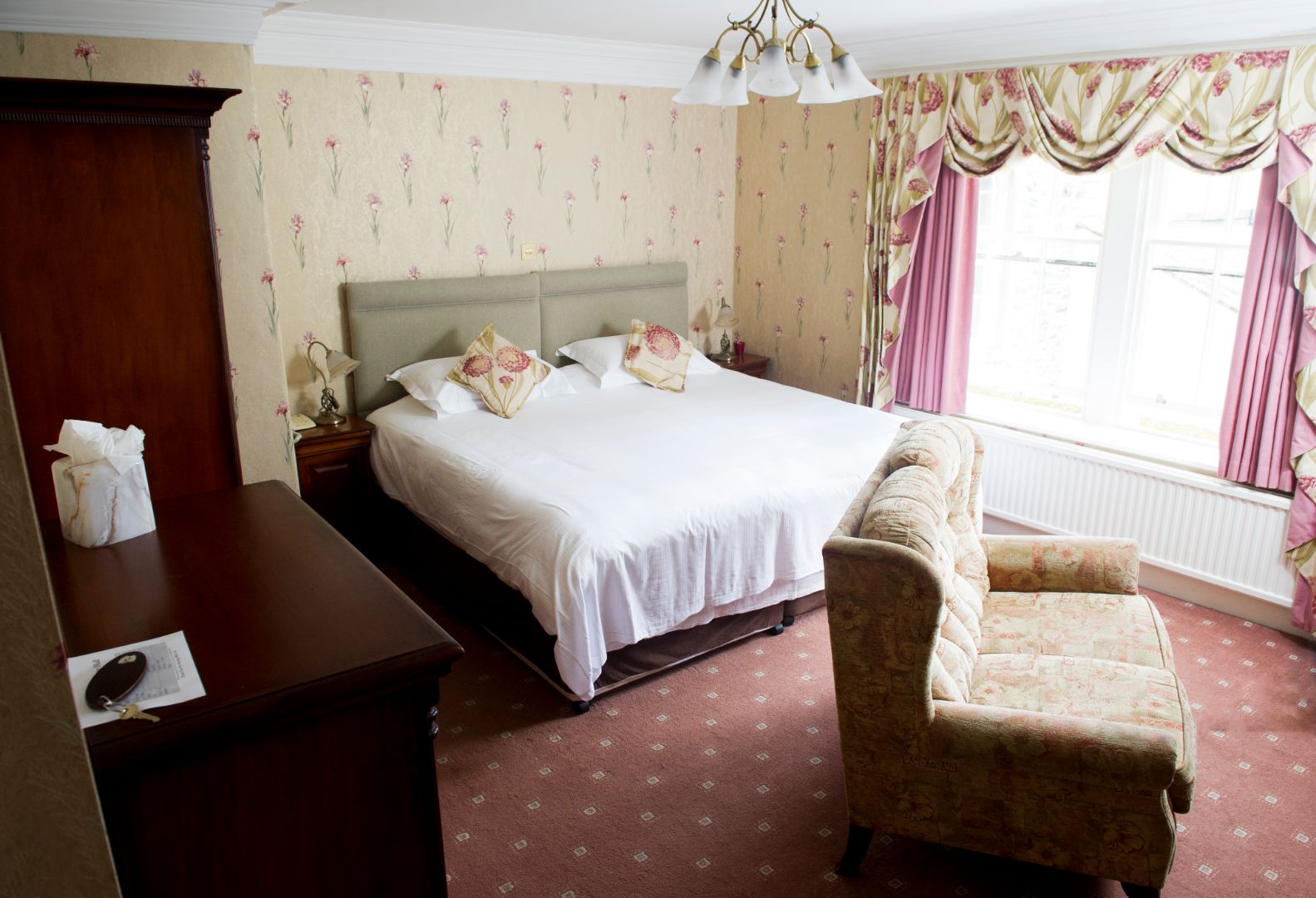 Room Eight
Perhaps the largest room of all, this super-king or twin-bedded room can comfortably accommodate one or two extra beds for families – and will accommodate a couple even more comfortably!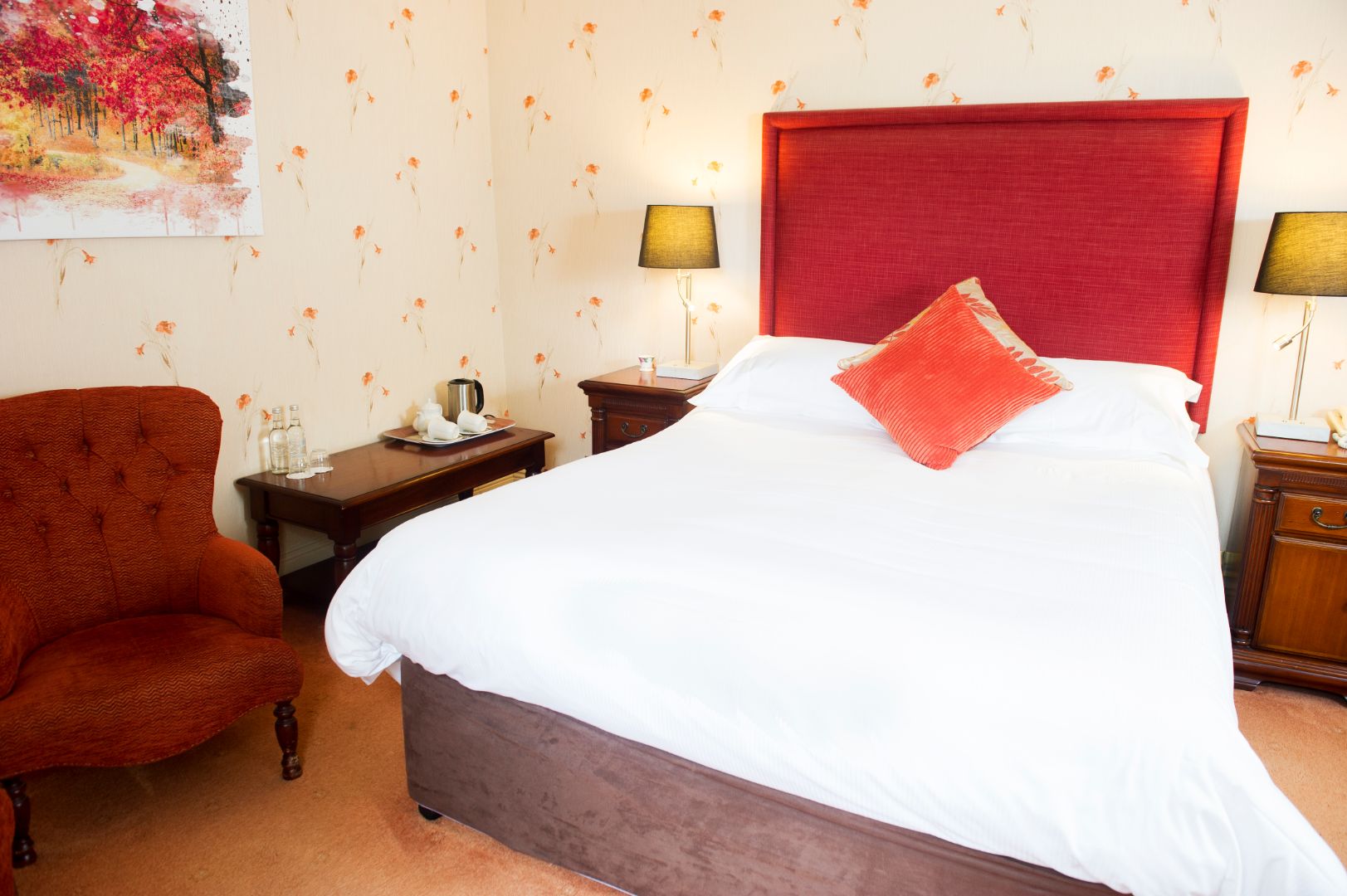 Room Nine
Deep terracotta colours make this a cosy room with king size bed and a separate dressing room. Enjoy wonderful fell views from the sanctuary of your bed – we challenge you to get up for breakfast in the morning!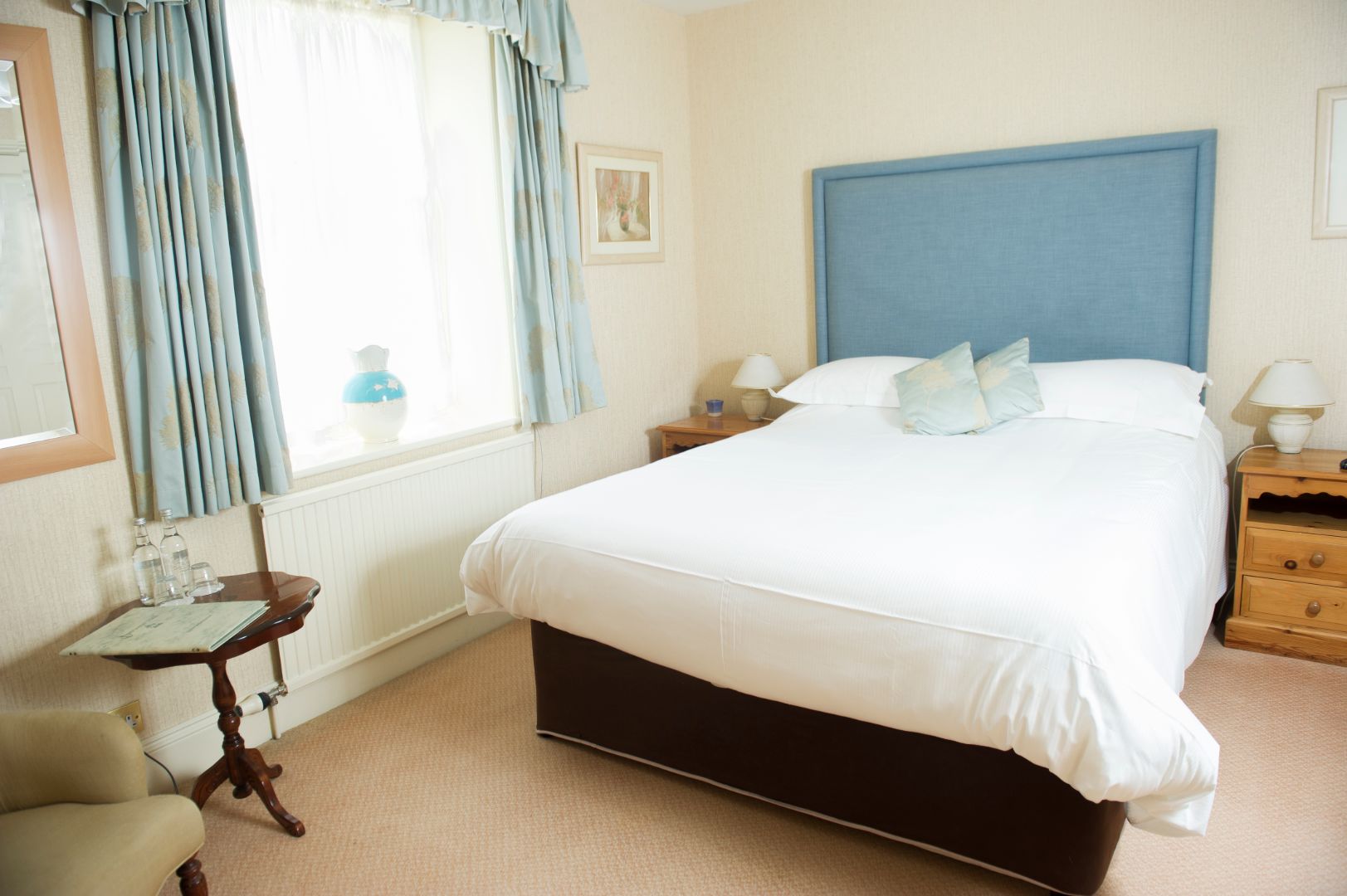 Room Ten
The smallest of our rooms, yet not too small, and with a lovely big bathroom.